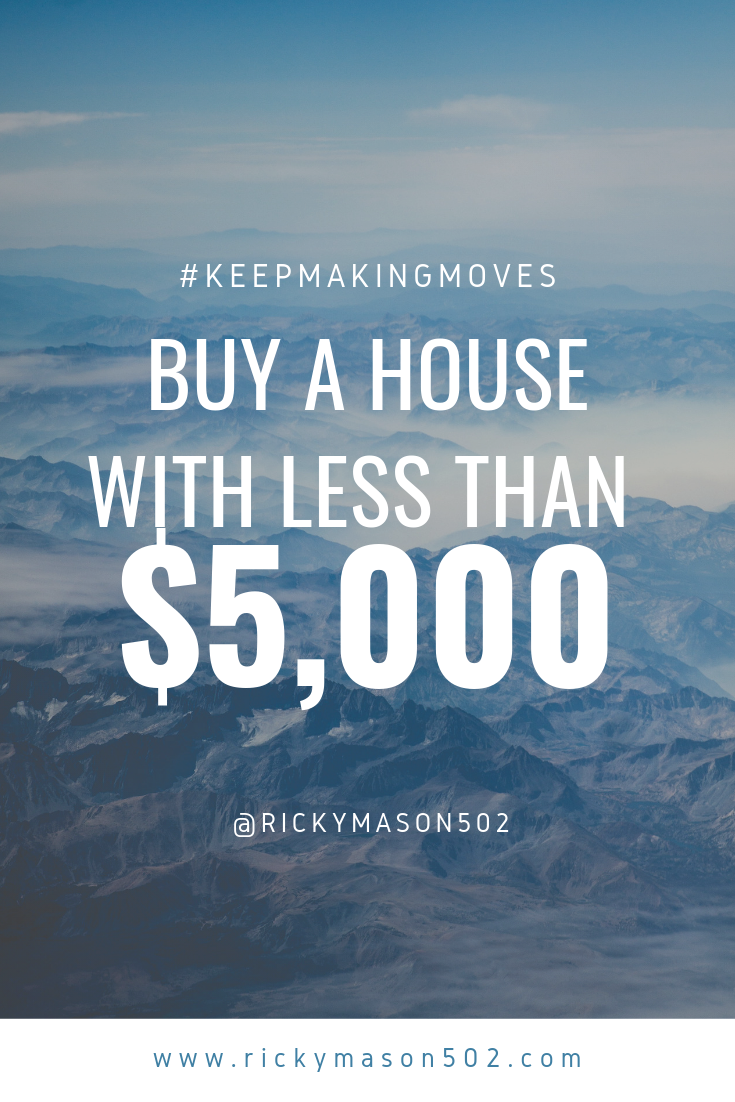 Think tax season, christmas bonus, lawsuit, etc. How would you spend a little extra income? 
Most people spend their tax return on new clothes, a vacation, or even worse, a savings account. You could buy a house!
No really, with $5,000 or less you could be a homeowner. There are a few loan options for homes that require little or no money down, making home ownership very affordable. Start building wealth today!
Before we talk about those options, there are a few disclaimers we should discuss:
1) We won't talk about military-related loans. They usually don't require any down payment (which is great), but they're specifically for vets and active duty military members.
2) The "less than $5,000" does not include purchase related expenses you may incur, such as an inspection or appraisal. These services can cost anywhere from $200-$600 depending on the property and are usually required by banks.
3) These loan options are for owner-occupants, meaning you have to live in the house for at least a year in most cases.
Ok so now the part you came here for:
Mortgages That Require Low Down Payments
Conventional Loan
That's right, with a conventional 30-year loan you can pay as little as 3% down! How so? CREDIT. GREAT CREDIT. This is why credit is everything. With a score in the 700s, combined with a low debt-to-income ratio (how much you make per month versus how much you pay per month on loans and credit cards) you can buy a house for only 3% of the purchase price. Because the standard down payment amount is 20%, banks will consider your loan to be "high risk" and make you buy PMI (private mortgage insurance). We'll have a more detailed post on PMI later, but basically you'll pay a little extra each month to insure your mortgage. So let's break this down…
You got a tax refund of $5,000. With that and great credit, you have enough for a down payment on a house worth about $167,000!
FHA Loan
So what if your credit isn't so great? There's an option for you too! Our lovely government sponsors FHA loans (Federal Housing Administration). There is a separate application for these loans, and they require that you live in the property (so you can't use these for investment properties). You can buy a house with this loan for 3.5% of the purchase price. Like the conventional option, FHA loans charge a fee every month to insure the loan. Here's the link to the federal website for more information on the FHA loan: 
https://portal.hud.gov/hudportal/HUD?src=/buying/loans
There are some cautions to loans with low down payments:
1) By putting so little down, your mortgage is higher, meaning more principle is subject to interest. Over a 30-year term, you'll end up paying a lot more for your house than if you put down 20% up front.
2) Eventually the PMI is eliminated from a conventional loan when your mortgage balance reaches 80% of the purchase price. The FHA loan fee never goes away.
3) There can be a tendency to get a more expensive house since you can put so little down. Make sure that your monthly payment will be one you can truly afford. We recommend spending 30 percent or less of your monthly income on housing.
>>>>>>Interested in investing in residental real estate? Connect with an experiened real estate investment consultant at Jack-Mason Wealth Group! <<<<<<
 Local Home Ownership Programs
Local home ownership programs typically offer comprehensive education and counseling to prepare families who want to purchase a home. Many offer Down Payment Assistance programs to help home buyers close the financial gap to home ownership. Feel free to contact us, can help you locate these service if needed.
Ready to buy?
Need an experienced real estate consultant?  Looking to start investing? Contact our partners at Pride Realty or Real Deal Real Estate. Our partners at Real Deal Real Estate specializes in finding the best deals that fit within your budget, goals, but most importantly your lifestyle! I've helped clients find properties in Kentucky, Indiana, Ohio, Virginia, Maryland, and Washington D.C.. I look forward to building wealth with you! #keepmakingmoves